~Protect Our Children~
~A Special Prayer~
For every child who cries at night
Alone with shame and pain and fright
For every child who wants so much
To only feel a gentle touch
For the beaten child, who cries in pain
Whose tears run silent, like the rain
For the child used to satisfy lust
Who never learns to love or trust
For the child taken from her home
And made to feel so all alone
For the child whose home is just a shell
Where life becomes a living hell
For the child who smiles but cannot feel
Because of scars too deep to heal
For every child who yearns for love
I hope and pray to God above
To hear your cries and heal your pain
And give you back your life again
Our children are our most precious commodity.

Please join my quest to help find these missing kids!!!!
This Java Applet Banner will run continuously,
displaying the 13 Missing Children Alert Cases.
Clicking on the photograph will bring up the
Alert Page with more information, and the ability
to print posters. Clicking on the Yellow Marquee
Message will connect to the NCMEC home page.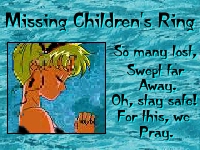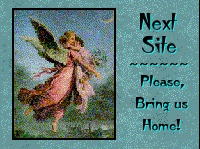 This
Missing Children's Ring site is owned by Princess Buttercup.

Click for the
[ Next Page | Previous | Next 5 ]

Want to join the ring? Click here for info.
These ring graphics created by Maeve
A most wonderful, kind and generous soul!
If the Ring is not working you may click HERE
This will take you to a listing of all the ring members
with links to their sites so that you may surf them.
Please visit the following sites as well:



Background Courtesy of: